Square Ethanol Burner AS50
Product Detail
Download as PDF
Product Tags
Product introduction:
Among the best Art Fireplace Designs, The Ventless Square Ethanol Burner AS50 inserts allows the flames to develop freely and in a very natural way. The intermediate solution for a dynamic fire which remains compatible with the medium-sized rooms.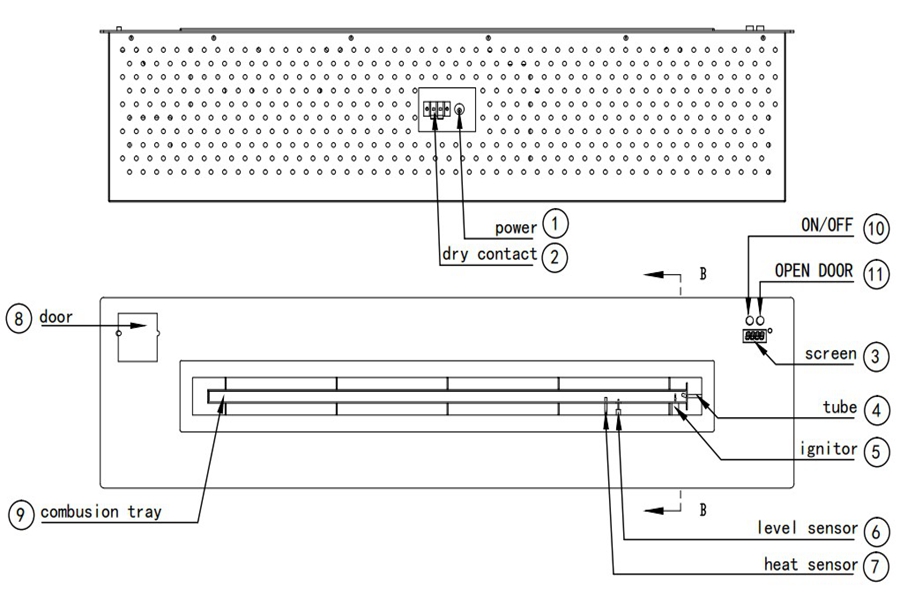 Product Details:
Brand

Artfireplace

Model

AS50

Dimension

500mm/LX500mm/WX215mm/H

19.70inch/LX19.70inch/WX8.46inch

Remote Control

Yes

Usage

In rooms of minimum 35 m2

Weight

26.00kg

Capacity

13Liter

Fuel Consumption

1.2Liter/Hour

Heat Output

3750Watt

Flame Length

474mm / 18.66inch

Flame Height

180mm / 7.08inch

Ventless

Yes

Cutout Dimension

480mm Length / 18.90inch

Cutout Dimension

480mm Width / 18.90inch

Cutout Dimension

250mm Deep / 9.85inch

Advantage

Auto-Ignition/extinguisher, Over heat protection, Shake-off protection,C02 sensor, Over flow protection, Child-lock

Usage

Bedroom, Apartment , Bar, Office…

Certification

CE/FCC/IC
AS50 Model Featured Functions:
1.Intelligent ethanol burner extinction or ignition ordered by electric board and a Button ON/OFF and remote controller.
2.Automatic filling injection and manual filling injection function for the burner.
3. Material in stainless and MDF.
4. Separately bio-ethanol tank and burning hearth.
5. Co2 Safety infrared detector which stops the fire in the event of reaching un-authorized levels.
6.Sake off function if the burner is moved by external force.
7. Automatic electric pump to fill the combustiontray of the burner.
8. With electronic heat detectors, it will automatic extinction when the temperature reaching the un-authorized levels.
9. AC charger or battery charger with battery loader.
10. With audio effect.
11. Child Lock Function.
Product parameters:
Inspirations ecological fire: the mix of the cultures and the atmospheres! This will be a great idea for super interior fire space design!
We can conceive all decorations with these new fire-devices. Really Nice idea to own a modern intelligent bio ethanol fireplace!
Bring the intimate atmosphere of this beautiful fireplace in your home and enjoy the pure coziness.
With flames of art ethanol Fireplace, Sitting together, Sharing the Happiness and Success with Your Family and Partners while drinking red wines, Talking, Playing, Laughing…That must be Great!!!

All prototype products have to go through 4 checks in the whole process:
Raw material inspection

In processing inspection

Final inspection

Outgoing inspection

FAQ:
Q:How can check my order status?
A:You can receive real-time status updates on your orders by contacting us. We have found that providing customers with the answers and transparency they desire has led to high levels of customer satisfaction.
Q:How do I order and pay?
A:After receiving your estimate and if you want to place an order, please send us:
Your delivery address including postal code (plus a billing address if different).
A telephone number for the deliverer
A copy of your payment
Full payment on ordering:
By bank transfer, with no fees
Using the bank information provided on the estimate, please send us a copy so we can immediately proceed to ship your package.
By PAYPAL using your credit card(+4%)
If you choose this solution, please ask us for the PayPal invoice.
This invoice will be sent to you within 24 hours by email.
Follow the link included to pay directly on the secured PayPal platform.
As soon as your payment is made, we will be informed directly and will ship out your order.
The PayPal company will guarantee the delivery of your order.
Send your message to us: