1. no smoking
Wood Burning Fireplaces release carcinogens and harmful gases, such as carbon dioxide and carbon monoxide. Breathing in these fumes can be dangerous for your family and pets. Even if you switch to dry logs that produce more heat and less smoke, they will still produce harmful fumes, reducing your home air quality. However, the emission of electric fireplace is zero, and there is no harmful by-product.
With an electric fireplace, no harmful fumes or fumes seep into carpets, sofas, clothes or beds. Moreover, those with allergies and medical conditions (such as asthma) can find comfort and convenience in more advanced heating technologies. For example, some electric fireplaces use infrared heating to avoid air drying and to help maintain natural humidity to maintain health.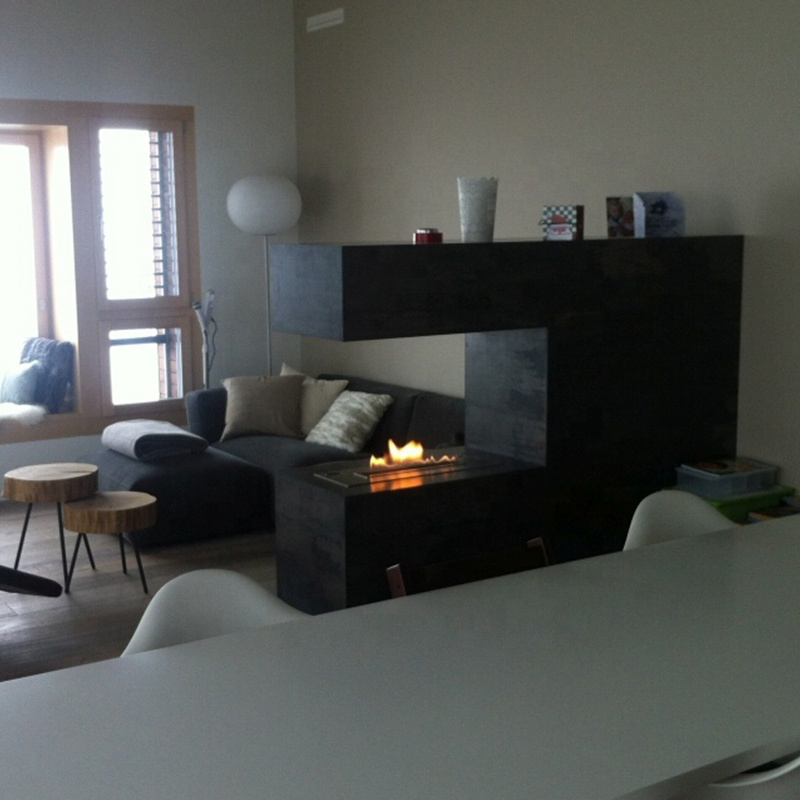 2. high energy efficiency
Electric fireplace is one of the most effective ways to heat a house faster and more efficiently than wood burning fireplace. As the heat rises, the traditional chimney fireplace dissipates all the heat through the chimney. The electric fireplace also uses LED technology, which consumes less energy than ordinary incandescent bulbs. LED bulbs have a normal life of 50000 hours and are mercury free. This helps to reduce greenhouse gas emissions and reduce operating costs. The heat generated by the touch of LED bulb is about 90% less than that of incandescent bulb.
3. save money
As you may have guessed, the energy efficiency of electric fireplaces also makes them more cost-effective. As far as fireplaces are concerned, electricity is the cheapest. One reason is that electric fireplaces provide supplementary district heating. District Heating saves money by allowing you to reduce the overall temperature of your house by 10-15 degrees. Then, heat only the required room. This concept reduces wasted energy and can save up to 10% on electricity bills.
Electric fireplace also saves you expensive chimney cleaning, service inspection and installation costs. For Wood Burning Fireplaces, the costs associated with installation and maintenance are often too expensive. Using a traditional fireplace, you may need to pay $7000 – $10000 or more for installation. In addition, related costs will increase rapidly. Inspection of chimneys, cleaning of chimneys, wood and heat loss from chimneys will increase these costs. The basic material price of gas fireplace is about $2500, and the installation and decoration cost is about $2500. Gas fireplaces also require annual service inspections as well as chimney inspections at a cost ranging from $100 – $200.
4. low maintenance
Electric fireplaces require little maintenance, and you can always choose to clean them yourself to avoid the average cost of $200 – $300 for traditional fireplace chimney cleaning. In fact, because firewood is not needed as the main dye, there is no need to cut or store logs. In addition, you do not need to bend down to light or operate the furnace to make a fire. With the electric fireplace, you can sit down and relax, and use the remote control to control the fireplace in a controllable range.
5. Not restricted by environmental factors
Renters, as well as those living in apartments, apartments, small houses and even RV, rarely enjoy the warmth and atmosphere of the fireplace. With the electric fireplace, anyone can enjoy the marvelous simulation of the fire in his own residence. Since chimneys are not required, electric fireplaces can be placed on any floor of the building. Smaller living spaces are not a problem, and multiple models mean they can also be placed in any house to provide the serenity that a fireplace can bring.
6. Long service life
Compared with traditional fireplace, electric fireplace has longer service life. Because it does not produce open fire, electric fireplace is not easy to rust and corrosion. Even after several years of continuous use, it is still brand new.
7. Easy to install
One of the best things about electric fireplaces is that they are easy to install. This is a one-step process! All you have to do is plug in the power supply and you can enjoy it. On the contrary, wood and gas fireplaces are expensive, time-consuming to transport and cumbersome to install. Usually, you also need to hire a professional to install.
8. Various electric fireplaces available
The electric fireplace has many styles and styles to choose from. Traditional and modern can be considered to match any type of home decoration or architectural style. In addition, they give owners complete control over their ideal fire watching experience. According to the functions of the selected model, you can customize settings such as brightness, flame speed, flame color, etc. to suit your style or mood.
They can also be placed in places where traditional fireplaces are not normally allowed, such as basements. Some models are built into the beautiful mantelpiece and media console, providing extra storage space while showing fashion. Sometimes they can be installed on the wall. You can choose the electric fireplace suitable for you according to the needs of moving between rooms.
9. Safety issues
Although the electric fireplace generates enough heat to heat a room of 400 square feet or more, the body of the shell remains within the temperature range that can be directly touched by the human body when touching. Electric fireplace is a safe alternative to traditional fireplace, especially for families with old people, children and pets. Automatic overheating protection can also reduce the fire risk caused by overheating of electronic equipment. This safety function monitors the temperature of the electric fireplace plug and automatically turns off the device in case of unsafe conditions. If someone or object blocks the heat source, it will also automatically shut down the device.

10. Not limited by seasons, it can be used throughout the year
Because the control of heat and flame effect in the electric fireplace is independent, anyone can enjoy the comfortable and convenient rain of the electric fireplace 365 days a year. Even in the heat
---
Post time: 2020-02-13