Intelligent Ethanol Burner AF66
Detalle ar producto
Descargar en formato PDF
Etiquetas producto
Product introduction:
Among the best Art Fireplace Designs, The Ventless Model Ethanol Burner AF66 (68cm) inserts allows the flames to develop freely and in a very natural way. The intermediate solution for a dynamic fire which remains compatible with the medium-sized rooms.
Product Details:
Marca

Artfireplace

Modelo

AF66

Dimensión
680

mm/LX240mm/WX215mm/H

26.77inch/LX9.45inch/WX8.46inch

Teledirigido

Hä

Njapu'befi

Jar habitaciones mínimo 25 m2

Be̲xu

21.00Kg

Mfeni

7.50Litro

Combustible Consumo

0.6Litro yá ora

Heat Output

3750Vatio

Longitud ar llama

474Mm / 18.66pulgada

Flame Height

180Mm / 7.08pulgada

Ventless

Hä

Dimensión recorte

640mm Longitud / 25.20pulgada

Dimensión recorte

220mm Ancho / 8.66pulgada

Dimensión recorte

250mm Profundo / 9.85pulgada

Ventaja

Auto-Ignition/extinguisher

,

Over heat protection

,

Shake-off protection

,

C02 sensor

, Mfats'i ngatho ja ya sobrefluyos, Bloqueo pa ya bätsi
Njapu'befi

Dormitorio, Apartamento , Bar, Oficina...

Certificación

CE YÁ FCC YÁ IC
AF66 Model Featured Functions:
1.Intelligent ethanol burner extinction or ignition ordered by electric board and a Button ON/OFF and remote controller.
2.Automatic filling injection and manual filling injection function for the burner.
3. Material in stainless and MDF.
4. Separately bio-ethanol tank and burning hearth.
5. Co2 Safety infrared detector which stops the fire in the event of reaching un-authorized levels.
6.Sake off function if the burner is moved by external force.
7. Automatic electric pump to fill the combustiontray of the burner.
8. With electronic heat detectors, it will automatic extinction when the temperature reaching the un-authorized levels.
9. AC charger or battery charger with battery loader.
10. With audio effect.
11. Child Lock Function.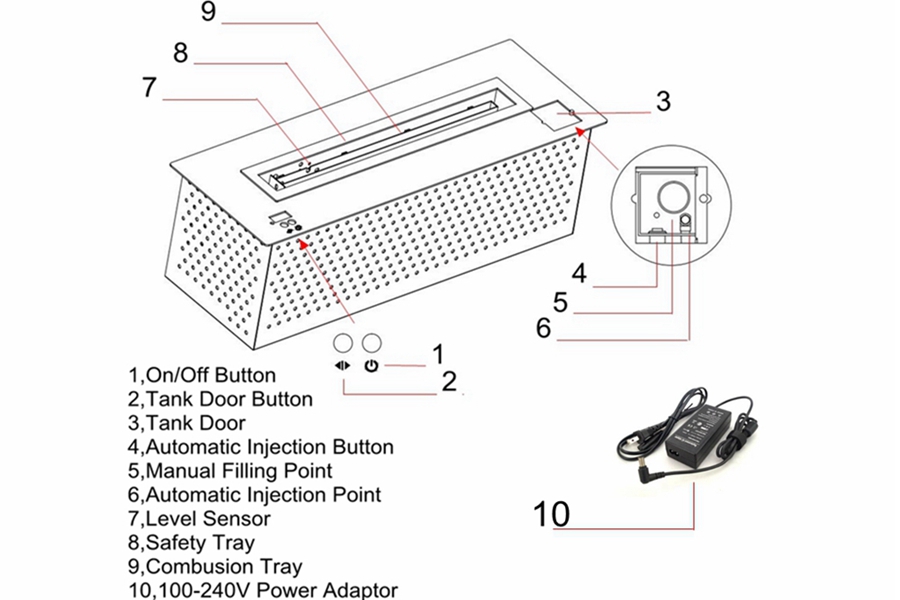 Product parameters:
Inspirations ecological fire: the mix of the cultures and the atmospheres! This will be a great idea for super interior fire space design!
We can conceive all decorations with these new fire-devices. Really Nice idea to own a modern intelligent bio ethanol fireplace!
Bring the intimate atmosphere of this beautiful fireplace in your home and enjoy the pure coziness.
With flames of art ethanol Fireplace, Sitting together, Sharing the Happiness and Success with Your Family and Partners while drinking red wines, Talking, Playing, Laughing…That must be Great!!!
All prototype products have to go through 4 checks in the whole process:
Raw material inspection

In processing inspection

Final inspection

Outgoing inspection
Fotografiya ar cliente
Ya nt'a̲ni mäs frecuentes:
Q:¿Temu̲ gá pedido muestra??
'Nar:Aceptamos pedidos muestra 'bu̲ 'be̲tho ar producción, ge 'nar bi thogi mahyoni 'be̲tho gi thogi 'nar mfats'i exitosa, hingi dude jar ga japi ar jar contacto ko ngekagihe pa.
Q:Where can I purchase one and how much does it cost?
'Nar:Art Fireplace distributes its products in more than 100 countries and delivers to anywhere in the world. To find out where to purchase an Art Fireplace or insert, please fill in the form you can find on the contact page. An Art Fireplace agent will answer you by email within 24 hours along with a catalog and prices.
If your request is more precise and includes one or more particular models, do not hesitate to mention them on the contact form. We will then send you the specific technical description of that product, an installation diagram with the measurements to be respected as well as an estimate including delivery costs.
Ga pe̲hni ár 'me̲hni pa: