Water Vapor Fireplaces are ventless fireplaces with realistic flames. It is made with fine water mist, LED lights and reflective light.

5 FUN FACTS ON WATER VAPOR FIREPLACES
Water Vapor Fireplaces offer a superior alternative to traditional gas or wood fireplaces.
They offer the most realistic flame imitation among all alternative fireplace types.
They don't produce harmful emissions, so your air is clean.
The "flame" is very safe to touch. It can also be used in commercial and crowded areas.
Water Vapor Fireplaces can be installed in many ways.
They are also inexpensive to operate. They use very little electricity and run on tap water.
There are many other benefits of water vapor fireplaces like their low energy consumption and environment-friendliness but the bottom line is: water vapor fireplaces feature a dazzling, realistic flame that rivals gas, with the safety and simplicity of electric.
HOW DOES A WATER VAPOR FIREPLACE OPERATE?
Flame imitation looks so real that you might be able to touch it.
Modern technology can create a flame effect that looks very real without using any fire. Water vapor fireplaces use electricity and water. It emits fine mist in the air using tap water. The mist can reflect LED lights, creating a realistic illusion of flame and smoke in three dimensions.
Just plug them in to any standard household outlet, or hardwire. Add water (or connect via a water line to the tank) and you're good to go!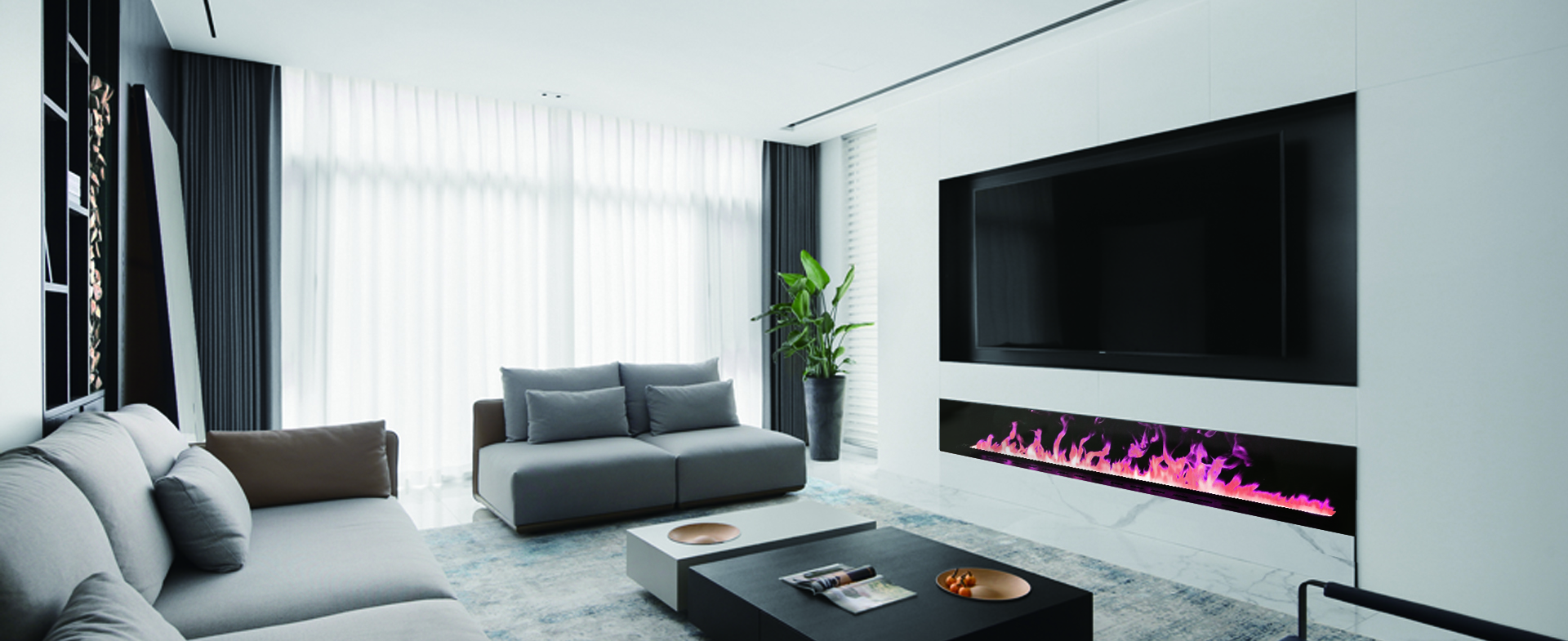 WATER VAPOR CASETES - CUSTOM FIREPLACES
Water vapor cassettes offer the perfect solution for creating a custom fireplace. Water vapor cassettes come in many configurations, including 2-sided and 360-degrees.
Cassettes can be ordered in sizes 20, 40, and 60 inches. They have the flame running from edge to edge.

HOW TO CHOOSE AN OPPORTUNITY WATER VAPOR FLIREPLACE
We have already selected some of the most impressive Water Vapor Fireplaces, which will be featured on our website.
Nevertheless, some of them stand out.
Art-Fire, the original water vapor fireplace. They are loved by their customers. This fireplace appears on an episode from Bar Rescue TV Show.
Art-Fire cassettes allow you to add a heater and connect to a hose or plug them into instead of hardwiring. For even more authenticity, add glowing log sets. Highly recommended! ).

---
Post time: 2022-07-22