Fajra Akva Vapora Fajro AFW150
Produkta Detalo
Elŝutu kiel PDF
Produktaj Etikedoj
Product Introduction:
Bring the intimate Atmosphere of this beautiful fire in your home and enjoy the pure coziness. With flames of Art Fireplace Ventless Electric Water Vapor Fire Model AFW150.
Art Vapor Fires Advantages: No need Chimney, No need fuel, No need battery, No heat, Only for Interior Designs like real flames.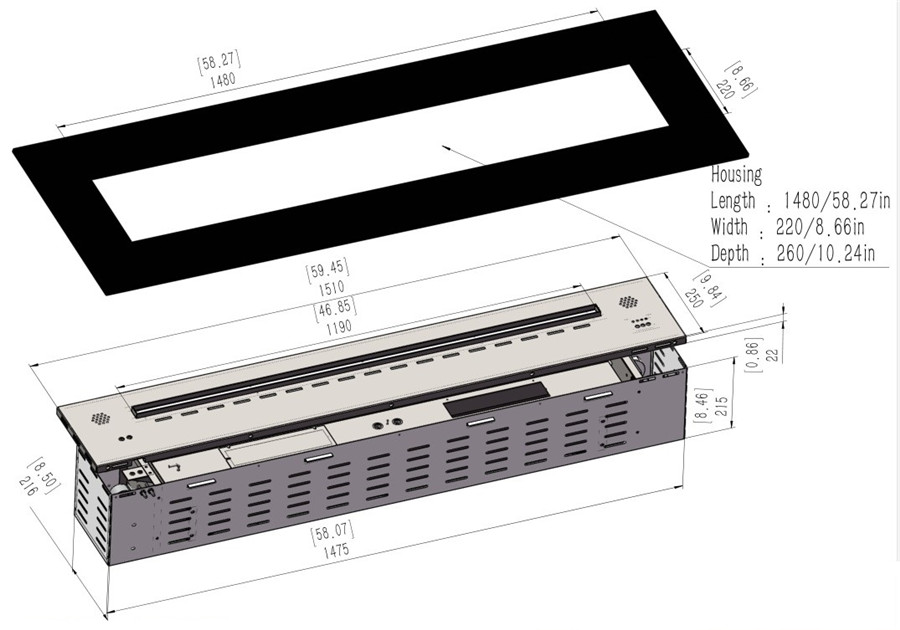 –Single Color Model AFW150:
Marko

Artefarita loko

Modelo

AFW150

Dimensio
1510

mm/LX250mm/WX215mm/H

59.45inch/LX9.84inch/WX8.46inch

Fora Kontrolo

Jes

Uzado

En ĉambroj de minimumo 80 m2

Pezo

45.00kilogramoj

Kapacito

8.50Litro

Brulaĵo Konsumo

0.5Litro / Horo

Output

150Vato

Lama Longeco

1190mm / 46.85colo

Flame Height Adjustable

100mm–400mm / 3.94

inch—15.75inch

Senventa

Jes

Tranĉa Dimensio

1480mm Longo / 58.27colo

Tranĉa Dimensio

220mm Larĝeco / 8.66colo

Tranĉa Dimensio

260mm Profunda / 10.24colo

Avantaĝo

Flame Height adjustable

,

Flame Speed adjustable

, Protekto kontraŭ fluo, Infano-seruro
Uzado

Dormoĉambro, Apartamento , Trinkejo, Oficejo ...

Atesto

CE / FCC / IC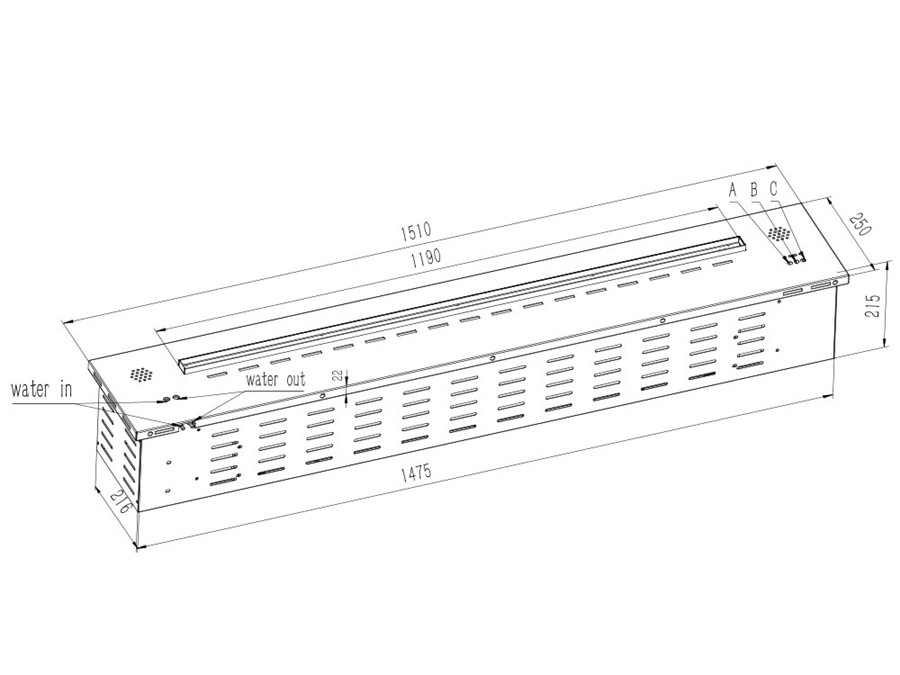 Arto 3D Akvovaporaj Kamenoj Elstaraj Funkcioj:
1Facila Kontrolo: Butono ON / OFF kaj fora regilo kaj Bluetooth-Kontrolo(nedeviga)
2.Materialo en neoksidebla kaj MDF
3.Flama Alteco Agordebla
4.Flama Rapido: Agordebla
5.Flamaj Multoblaj Koloroj(nedeviga)
6.Halogena Lumo kaj LED-Lumo
7.Aŭtomata Plenigu La Tankon
8.Aŭtomata Drenada sistemo
9. Verda Energio-Konservado
10FunctionFunkcio de superflua protekto
11FunctionsFunkciaj protektado de supertensio kaj protekto de potenco
Art Water Vapor Fire Models Advantages:
Remote Control Capability. Due to its electronic operation, powered by a twelve-volt power source, this vapor fire insert may be turned on/off switch located on the burner itself, a five-button remote controller or through your smart phone by integrating with your Smart Home System.
On-Board Safety Monitoring. The motherboard of this fireplace insert is safety-central. Constantly self-evaluating its operation, this intelligent burner reacts to any condition that appears atypical. Should it sense an excess amount of carbon dioxide emission, it will automatically cease operation.
Sturdy Construction. Constructed of Grade 304 stainless steel, the vapor burner is corrosion resistant and exhibits excellent resistance to atmospheric, chemical and other exposures. Its top plate measures three millimeters in thickness (3/32 inches). This allows sturdiness, yet promotes a low profile.
Ventless Designs. With An Art Water Vapor Fire Model, it will be much more convenient for the designers to install the vapor burner anywhere fit in the room. No need set ventilation system under the burner.
Oftaj Demandoj
Q: How to start a project?
A: To start your project, please send us the design drawings with a list of material, quantity and finish. Then, you will get the quotation from us within 24 hours.
Q: Which surface treatment are the most common for metal parts?
A: Polishing, Black Oxide , Anodized, Powder Coating, Sandblasting, Painting , all kinds of plating(copper plating, chrome plating, nickel plating, gold plating, silver plating…
Q: We're not familiar with the international transport, will you handle all the logistic thing?
A: Definitely. Many years experience and long term cooperated forwarder will full support us on it. You can only inform us the delivery date, and then you will receive the goods at office/home. Other concerns leave to us.
Q:What is the guarantee?
A: All our products come with good condition, ready to use.
We promises all clients 2 years long warranty time.
If our products are damaged or can not be repaired, we will send you a same new one free for replacement. All spare parts are delivered to you free.
All our products are of highest quality.
Sendu vian mesaĝon al ni: